News

The Pipettes Score U.S. Deal (FINALLY)

posted by Kurt B. Reighley on February 27 at 13:33 PM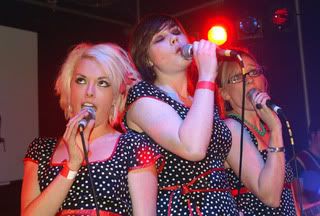 Billboard is reporting that polka dotted UK songbirds the Pipettes have finally signed an American record deal… only, what, eight months after We Are The Pipettes came out overseas? Still, if anyone has missed their sassy, Shangi Las-meet-Girls Aloud style indie pop hits ("Your Kisses Are Wasted On Me," "Pull Shapes"), you can finally find out what the fuss is about when Interscope subsidiary Cherrytree (home to Feist and equally swell British rock act the Feeling) re-releases their debut this summer. Sheesh.
No word if the North American version will include bonus tracks, but after a wait like that it'd be downright insulting if it didn't — especially since practically every Pipettes single has included non-LP b-sides. On the plus side, maybe this means the girls will finally play some U.S. shows besides their dates in New York and at SXSW in Austin, TX next month. Please?