History

Joe Boyd reads from "White Bicycles"

posted by Kurt B. Reighley on March 24 at 10:39 AM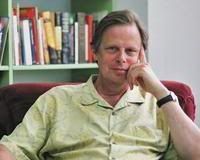 Producer Joe Boyd has had one of the most fascinating journeys through the music business, including (but far from limited to) producing the first Pink Floyd single and installing the band at his notorious UFO Club, and fostering the UK folk rock movement via his involvement with Sandy Denny, the Incredible String Band, and Fairport Convention. Oh, and he produced the first two Nick Drake albums and played a central role in the doomed troubadour's brief but influential career. Boyd also passed on signing up ABBA. Yeah. He's written a fascinating (i.e. succinct and entertaining) memoir of his adventures, which he remembers with startling clarity, entitled White Bicycles: Making Music in the 1960s. The book has won praise from Brian Eno, Kate Bush, and a host of less-reputable types (i.e. music and literary critics). Boyd is doing a last-minute reading at Elliott Bay Book Company this afternoon at 2 PM, and if you care a whit about any of the above-mentioned artists, you'd be wise to check it out.