News

RIP Algebra Suicide (updated)

posted by Kurt B. Reighley on September 10 at 18:23 PM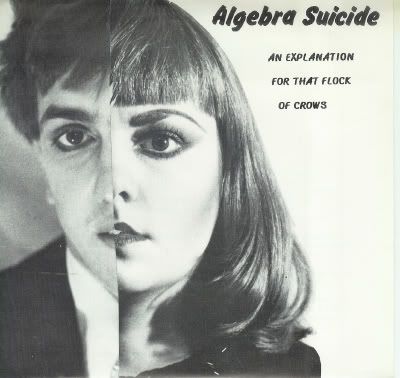 Eli from the Crocodile just forwarded me this very sad post from the WFMU blog, about the passing of Lydia Tomkiw, who was the "words and voice" half of Midwestern '80s act Algebra Suicide. In the Reagan years, when the world was smaller and cool bands (at least the ones we could learn about in the suburbs of Virginia) were thin on the ground, Algebra Suicide exerted a terrific influence over my friends and I. I'd stumbled across their track "True Romance At the World's Fair" on a cassette-only compilation of regional bands, put together by Trouser Press. Lydia's deadpan delivery resonated powerfully with our cynical clique, and within days, turns of phrase like "too many blondes spoil the crowd" and "the world? the world is not a wild place" had become integral to our common language.
In time, I found two 45s by the band, as well as a 1987 compilation LP, The Secret Like Crazy (which includes all but one of the eight tracks released on the 7-inches), and cuts like "In Bed With Boys" made their way on to many a mix tape, fitting perfectly as they did between Laurie Anderson and Book of Love. RIP Lydia, you made my adolescence a little less hellish.
Update: Tues. Sept. 11
From what little info I could find on the web, Lydia was apparently living in AZ at the end. Mike Appelstein, who published the excellent Caught In Flux fanzine in the '90s (and oversaw the Seattle indie pop mailing list) e-mailed me a reminiscence about seeing Tomkiw sing "Dream Hat" (originally warbled by Mac McCaughan on Wasps' Nests) at a 6ths show a few years ago: "Totally made it her own style."
I've heard that sombody is born every eight seconds,
So I presume that somebody dies every eight seconds,
Just to keep things even; it makes me feel shortchanged
When I read the obituary page —
Somebody's holding back information.

"Little Dead Bodies"