Tonight

"Victrola Favorites" at Wall of Sound

posted by Kurt B. Reighley on February 1 at 11:44 AM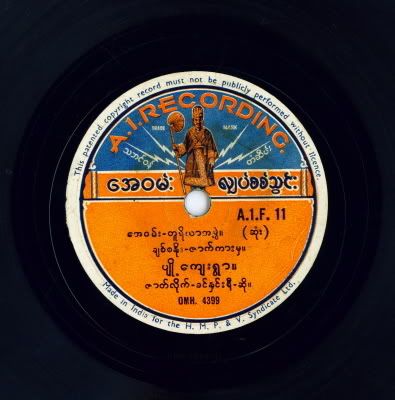 Remember the "party" scene in Ghost World? Steve Buscemi opens up his bachelor pad to a handful of like-minded nerds, and they bond – and bicker – over vintage shellac discs. A veritable laugh riot. And, alas, not too far from the truth. Even by record geek standards, folks who collect these vanishing gems from the early days of recorded sound can be pretty, um… intense. That tends to make investigating this dead medium terribly off-putting to neophytes.
Which is why Victrola Favorites: Artifacts from Bygone Days is such a boon. Compiled by 78 devotees Rob Millis and Jeffery Taylor (a k a Climax Golden Twins), this 144-page clothbound tome reproduces exquisite details, culled from labels, sleeves, advertisements, needle tins, and other ephemera, in vivid color. The duo has taken a subject that is traditionally treated in woefully academic fashion, and rendered it fun and artful. Plus, the tome is accompanied by two CDs crammed with period recordings of Chinese opera, cowboy ditties, Buddhist chants, Portuguese fado, an audio tour of London circa 1929, and the delightfully titled Hong Kong souvenir "Big Idiot Buys A Pig."
Victrola Favorites is published by Dust-to-Digital, the same crew who brought you the gospel box Goodbye, Babylon and Fonotone Records: 1956 – 1969, both of which earned Grammy Award nominations for their packaging, so you know it looks good. And to launch it in style, a shindig's goin' down tonight at Pine Street pit stop Wall of Sound (where Taylor is co-proprietor) from 7 to 9 PM. There will be DJs spinning vintage shellac discs, newly minted copies of the book available for purchase, and nary a hint of peering-over-the-spectacles elitism.