The glory that was Romo
posted by Kurt B. Reighley on May 7 at 14:50 PM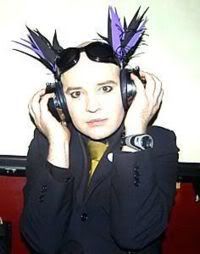 Sometimes, when feeling nostalgic for New Wave synth pop of the '80s makes me feel guilty (or too old), I switch things up… by feeling nostalgic for the New Wave synth pop of the mid-'90s. That's right: The short lived UK fad known as Romo. While the rest of the world was busy rocking out to grunge and "new wave of new wave" bands like S*M*A*S*H and These Animal Men, a small cadre of dedicated dandies — led by DJ and writer Simon Price (above) — slapped on the ruffles and eyeliner, and sought to revive the New Romantic era under the auspices of "Romo" (short for Romantic Moderns).
Bands like Dexdexter, Viva!, Hollywood, Sexus, Plastic Fantastic, Orlando (the best of the bunch, IMO), and more came and went in the bat of a gilded eyelid; the groups with more staying power (My Life Story, the dreaded Nancyboy) tended to be acts who got lumped in with Romo, rather than pledging any allegiance to the trend. The bulk of the music was tinny crap, all pretense and no tension, but it was fun while it lasted.
For a snarky but pretty spot-on UK TV segment on Romo from back-in-the-day (with Steve Strange from Visage looking like hell), watch this YouTube clip. Want more? Check out the sights and sounds in detail at This Is Romo, or download an embarrassingly enthusiastic trend story I wrote on Romo for CMJ New Music Monthly in 1996 here.
(Hat tip to my pal Randy at Sony BMG for sending me that YouTube link.)