History

Ponderosa Stomp memories

posted by Kurt B. Reighley on May 2 at 14:21 PM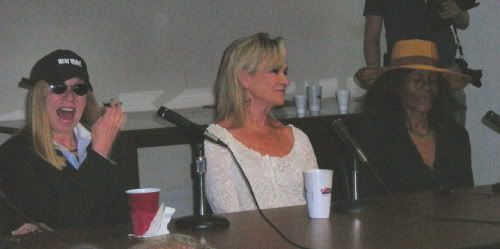 Just got back from the Seventh Annual Ponderosa Stomp in New Orleans a few hours ago. I saw some amazing performances across two nights; the spirituals James "Sugarboy" Crawford sang Wednesday evening left me feeling like I was part of a congregation, not a jam-packed House of Blues audience. And Ronnie Spector just sounds better as the years go by. Hopefully she trademarked her signature "whoa-ho-ho-ho" and is making a mint off of ringtone downloads nowadays.
In addition to the showcases, the Stomp hosted their first daytime conference of panels and oral histories this year. The photo above is from Wednesday's "Here Come The Girls: Women In Rock, Country and Soul in the 60's" chat, moderated by Holly George-Warren. Mary Weiss of the Shangri-Las (on the left) shared some great stories about her rough-and-tumble adventures (including buying a derringer for protection on the road), and Lorrie Collins of rockabilly siblings the Collins Kids (center) had the audience in stitches reminiscing about being courted by TV heartthrob Ricky Nelson.
But hands down, my favorite person at the conference was the slender lady on the far right of this photo, soul jazz cult figure Tami Lynn. She'd cranked out a smokin' version of her 1972 hit "Mojo Hanna" the night before, accompanied by an all-star band including Mac Rebennack (alias Dr. John) on the piano. Asked by George-Warren about her early experiences — and dealing with powerful men in the entertainment biz — she remembered an episode at a radio convention when she was just sixteen, and Atlantic Records' Jerry Wexler cornered her after a showcase, offering her a contract. Her response?
"I'm sorry, sir, I don't want to be a singer," she demurred. (Earlier, Lynn had explained that she was a reluctant performer from the beginning.) "I want to be a speech therapist with retarded children."
Wexler replied: "Well, I know all about retardation… because you have it."