Love

Mauricio Kagel (1931-2008)

posted by Christopher DeLaurenti on September 21 at 14:38 PM

One of the last great composers of Europe's post World War II avant-garde died last week. He joins a list of brave pioneers: Nono, Berio, Ligeti, Stockhausen…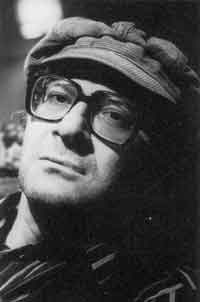 Mauricio Kagel was a trickster, inventor, and filmmaker always attuned to the theatrical elements of music making. He not only understood that all performance is theater, but in his films and scores Kagel magnified tiny, interstitial musical elements into grand gestures (e.g., the madhouse cackling in the Improvisation ajoutée for organist and two assistants).
Unlike Kagel's better-known peers and colleagues including Pierre Boulez-who back in 1954 told him to ditch Buenos Aires and come to Europe-Kagel remains comparatively unknown in the U.S. Many of his works require custom-made instruments or unusual (and thus in America impractical) configurations. The duo Zwei Akte calls for a harpist and reed virtuoso equipped with sopranino (not soprano), alto, and baritone saxophones.
Kagel helped pioneer electronic music; by having performers record custom-made tapes to perform Transición II (1958-59), he helped establish the tape recorder as a musical instrument and legitimate component of chamber music. Kagel also fashioned outsize and at times prankish musical schemes. His hefty Exotica for "extra-European instruments" remains gorgeously difficult listening while Tactil deploys long throbbing tines and louche guitar strums in a sideways homage to Jobim & company.
By the late 1970s, Kagel had consolidated his avant garde tactics with more traditional techniques, and masterfully so; in the sheaf of pieces from 1981's Sankt-Bach Passion to Auftakte, sechshändig of 1996 and after, Kagel commingles the new and the old seamlessly.
To listen, UbuWeb is an excellent place to start and check The Avant Garde Project too.
Tonight on Flotation Device, I'll air Transición II and several other works in tribute to Kagel along with Annea Lockwood's World Rhythms, perhaps the first piece to layer unprocessed field recordings live.
Catch the on-line stream or tune in to KBCS 91.3 FM from 10 pm to midnight.